Not the Champ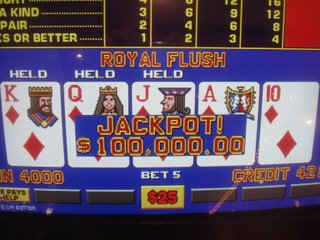 People keep asking why I came to Vegas. The World Series combines so many things I hate: slow, boring games; bad food; long hours; and losing six out of seven times even if you're a great player. But everyone knows why I came to Vegas. For the waters.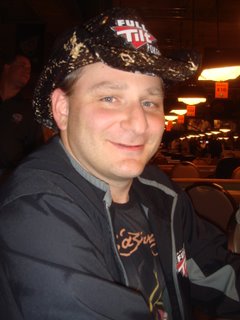 Although I had some luck in the casino, I failed to cash in the $10,000 limit hold 'em championship at the 2008 World Series of Poker. I did make it to day two despite being sandwiched in between Brandon Adams on my right and eventual winner Rob Hollink on my left, then being moved to the right of Andy "The Rock" Bloch.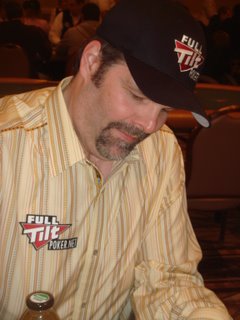 On day two I faced the rogue's gallery of Howard Lederer, Erick Lindgren, and Joe Cassidy before Barry Greenstein showed up to round out the table. Nevertheless, I survived until the table broke but then got it all in with Ace-Queen against Ace-King and went busto about 3/4 of the way though this tough field.
I did manage to double my starting stack, but other than that the high point of the event was figuring out I could use the $10 food comp that Harrah's provides each $10,000 entrant to exactly cover a chicken parmesan sub and two bags of smoked almonds.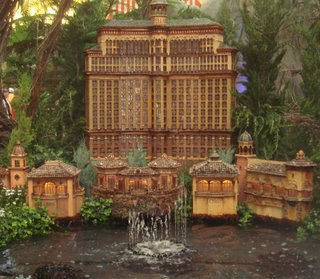 Desperate for good food, I cruised over to Bellagio for the tasting menu at Michael Mina, washed down with a 2006 Ken Wright Oregon Pinot Noir. I'm not loving the 2006 vintage compared with 2005, but I've never had anything from Ken Wright that wasn't good.
Michael Mina (formerly Aqua) is inside the conservatory, where I imagine Professor Plum killing someone with the candlestick every time I walk through the beautiful, fragrant, ever-changing floral display. This time they had a very clever mini-Bellagio complete with fountain show. Stop by and see it if you get the chance. It's one of the best free things to do in Vegas.
I'm planning to enter the $1500 mixed hold 'em event on Sunday.
Labels: Andy Bloch, Barry Greenstein, Brandon Adams, dining, Erick Lindgren, Howard Lederer, poker, wine