Lucky Me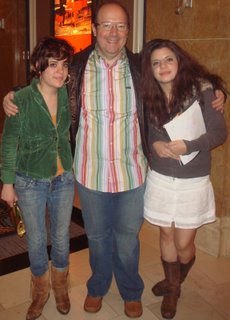 It sounded like the start of a letter to Penthouse Forum. My girlfriend Jenni's 18-year-old twin sisters were coming to Vegas for the weekend. Eighteen isn't old enough to drink or gamble, so I had to find something for them to do. Adam Ant was running through my head but instead I got them Ricky Martin tickets. For Jenni and her roommate I got VIP seats to the opening of the new Palms theater with Gwen Stefani. Me, I'd rather smoke a Cohiba out on the North Show Terrace at the Wynn or get in between the 400-thread-count Egyptian sheets with Jenni and watch Rounders for the 37
th
time. Or just watch Jenni. But the girls weren't in town yet so I went over to
Caesars
Palace
to play a little video poker.
I had been asking the bosses at Caesars to put in one or two of my favorite machines: $100 video poker where you only needed to bet $300 to get the maximum payout on the Royal Flush rather than the usual $500. I strolled into the high-limit room and saw them right in the front, where a trio of Red, White, and Blue slot machines used to be. I drew a marker and had them set the machine for credit play, so it wouldn't stop every time I hit a payout of $1200 or more. Instead a watcher would watch me and write down all the information to report to the IRS.

The marker lasted about as long as a lap dance from a 20-year-old stripper, and a second marker vanished just as quick. I texted Jenni to meet the limo driver when she arrived at McCarran, then stuck the Nokia back in the cell-phone pocket of my Lucky Brands. Jeans have had that pocket as long as I can recall, back even before cell phones were invented let alone small enough to fit there. What the hell was it originally for? I took out another marker.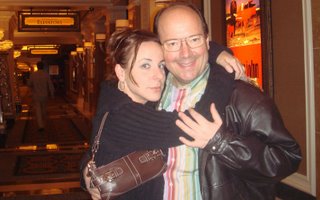 It was one of those gambling sessions you always remember, and not in a good way. I got stuck fast. Then I dug the hole deeper and deeper. I wanted to get unstuck before Jenni arrived. But by the time her plane landed all I had to show for my gambling was a stack of markers big enough to plug up the toilet if you tried to flush them. I licked my wounds and took Jenni over to the Wynn where we ate at the only gourmet restaurant that was still open, Corsa. She had an eggplant parmesan that would make Julia Child swear off red meat. During dinner and after, we remembered all the things we enjoyed about each other.
I came back in the morning and played the same machine some more. I couldn't hit anything so I went over to the Palms to play in the Ultimate Blackjack Tour tournament. I advanced all the way to the semifinals, where I got seated at top pro Anthony Curtis's left. I decided my strategy would be to get one chip ahead of him and then copy him. Of course, we both busted.
I went back and played some more and kept losing. I thought I had to bottom out eventually but I finally gave up stuck a whopping $150k. I took Jenni to Okada for some Divine Droplets. Good sake drowns all sorrows.
The next day my parachute finally opened. I played and played on the same money and then held the queen and ten of clubs and in popped a royal flush for $240,000. Unstuck! I had been hammering on these $100 machines all over town for a couple years now and this was my first royal flush. I snapped a pic with my Nokia and sent it to Jenni. Then I hit the ducks, twice, for $60k a pop. It was the kind of day that makes you feel like you can walk on water in your black Bruno Maglis. The girls all went off to their concerts and we went for a smoke afterwards overlooking the Lake of Dreams.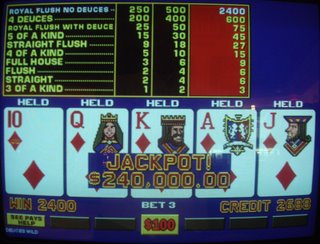 I came back Sunday morning and started feeding the ducks again. At first, I wanted to get unstuck and stubbornly played the same machine till it hit. Now I was on a roll and wanted to play it while it was hot. There was something vaguely wrong with that logic but I couldn't quite figure out what. I was stuck about $60k on the morning when it dealt me the ten through ace of diamonds.
A dealt royal flush, my first ever, and it was another $240k. Now I was playing on the house's money, big time, and I decided to just keep riding my streak. I had clubs and diamonds; now I was going for hearts and spades. Royal for the cycle, yeah.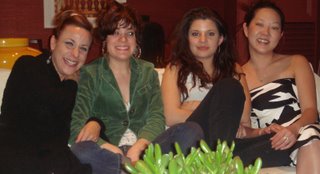 I had to wrap up at eight because the girls had spent the afternoon shopping for me at Nordstrom and wanted me to do a fashion show for them before they went home that night. They were the kind of clothes that would make Paris Hilton drop her cell phone. The girls went home and I had dinner at the Country Club with my friend Barry and the 2004 Justin Isosceles.
Monday morning I got up but my machine was being played by one of the local high-limit players. Bastard. He told me he'd be wrapping up around 9:30 if I wanted to play it then. Oh yeah, I did. I got coffee and came back around 9:30 and started playing. Around ten, a supervisor approached and asked me if the technicians could check something. I wasn't surprised. When machines pay out like that they always check to make sure the chips are sealed and so on. I cashed out and watched as they opened up the machine. To my great surprise, though, they found something they didn't like and told me they were going to have to shut it down and change the chip. Apparently it had been set looser than they had intended. They were going to tighten it up, which would take them about an hour. Since I was scheduled to fly out to Reno in the afternoon that seemed like a good place to stop for the weekend with a very, very nice win. The kind that dreams are made of.
Lucky me.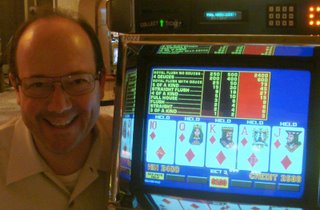 Labels: -favorites-, dining, gambling, girls, Jenni, twins, Vegas