"A geek girl who came to Chiang Mai…"
She wasn't an uberbabe. Oh, she was hot all right. But she was a bad girl. She liked to break the rules.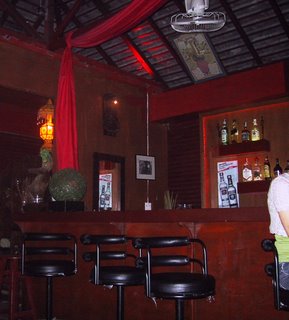 My brother Mike wasn't feeling well so he went home to get some rest while I hit the cigar store and walked around the Night Bazaar smoking a Romeo y Julieta. I was on a small street with beer bars when a very cute American girl came up to me and asked if I knew where she could get a cigar. She had long strawberry blonde hair and wore a white peasant skirt and a black tank top with a few beads of sweat on her bare shoulders. "I'll take you," I said.
She told me her name was Kitty and she was from California. She had come to Thailand, she said, to try to cure her addictions to smoking, drinking, and sex.
"How old are you?" I asked. "Twenty-three," she said. "Well," I said, "you've definitely come to the right place." The cigar store didn't have her brand so she asked if I knew anyplace else. I said my hotel had a cigar bar. She didn't say anything so I said, "Follow me."
At the hotel the lobby was full of uniformed guards and a long red carpet was laid out to the porte-cochere. I told Kitty the guards were probably there in preparation for the princess checking in. She was very excited about the princess and wanted to see her
so even though the cigar bar didn't have her brand, she ordered a pack of cigarettes and a glass of Champagne and tipped the bartender 100 baht to tell her when the princess arrived. I wanted a clear head to remember this story. I just drank water.
Kitty, she told me, was working as a computer technician in Silicon Valley until they caught her and a coworker naked in the network operation center. After that, she said, she decided she liked having sex with strangers so much she might as well get paid for it so she hung out a shingle on the Internet and had been whoring for about a year. And here I thought if you wanted to find skanky geek girls you had to go to Reno. "I was porting a Unix app to a milspec-secure system," Kitty said. I told her I used to be a computer programmer. "What language did you program in?" I told her C. "Good," she said. "If you had said Java I would have no respect for you. Although I barely qualified for Mensa myself."
At this point I was frantically making mental notes. I didn't want to forget anything. I was making up limericks in my head and grinning uncontrollably, which she probably misconstrued:
A geek girl who came to Chiang Mai
Must be nuts to compete with the Thai.
"Well, I like to get laid,"
She said, "and to get paid--
"And you never do know till you try."
Just then the bartender bowed in: "Scuse me! Princess coming!" Kitty leapt up and I followed her to the railing where we saw several people enter the hotel and turn toward the elevators. She wanted a better look so we ran down the stairs but by the time we got there they were rolling up the red carpet.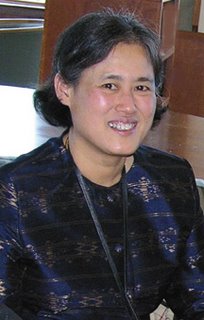 There were several other farangs loitering about the lobby princess-watching so Kitty chatted them up and verified she was part of that initial group. She asked one of the hotel staff, who said the princess had arrived but had gone to the fitness center. "She's in her 50s, right?" Kitty said. "I bet she's had a lot of work done." Then she realized you can get locked in a dungeon for speaking ill of the royal family, and quickly added, "I mean she works out a lot, right? In the fitness center." I sidled away from her until I was sure the soldiers showed no interest.
We went back to the bar and she chain-smoked L&Ms while downing three glasses of Champagne I figured I was going to get stuck for, but it was worth the story. "Are you hungry?" she asked, and ordered several tapas. Then she noticed I wasn't drinking alcohol and said I was being ungentlemanly so I ordered a glass of Bordeaux. Finally the bar closed. I signed the bill and watched as they put the bottles away, one by one. She showed no signs of leaving. "Well," I said, "it looks like they're closing the bar down." She didn't move.
"I was drinking and smoking with a guy three days ago," she said. "But I was still being celibate."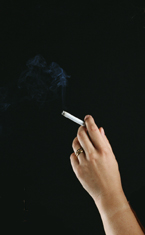 "How's that working for you?" I said.
"I haven't decided," she said. "But it was what I wanted three days ago. I'm not sure what I want today."
"Why did you come to Thailand?" I asked.
"I was too into the orgy scene in LA and it was getting hairy," she said. "And California is tough when you don't drive. I can't get a driver's license. I have blackouts." I stared. "But I'd love to take flying lessons." She looked at me with big brown eyes. "Maybe you could help me out with flying lessons."
"How can you fly if you have blackouts?" I asked.
"Oh, I'd always have an instructor with me," she said. One of the bartenders had left. The other, a Thai girl about Kitty's age, stood waiting. "I lost my virginity when I was 13," Kitty said. "A friend of my brother's gave me a back rub while we were watching TV. He asked me if I wanted to try having sex. I said OK."
"How old was he?" I asked.
"Twenty. I liked it so much he couldn't believe it was my first time."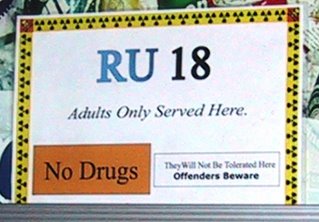 "Did the guy go to prison?" I asked.
"Oh no," she said. "I didn't turn him in. I could have, but I didn't want to." She finished her Champagne and then held the empty glass out in the direction of my remaining Bordeaux. I poured half of what I had left into her glass. I signed the bill for 4400 baht ($125). We drained the last of the wine. "I really get off on guys who have moral issues with me," she said. "It was a lot easier to find them when I was underage." She looked down at her empty glass. "Is there somewhere else we can keep drinking?"
Oh, dear reader. I want you to know that it is only for your sake – the sake of the story -- that I swallowed hard and suggested we go back to my room to partake of my complimentary minibar, sadly underutilized except for a few glasses of Ballantine 12 year Scotch by my brother. Without a word, she rose and followed me.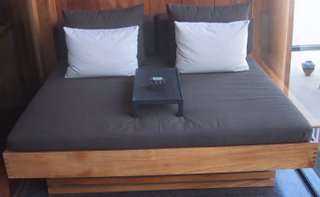 Kitty headed right for the outdoor daybed and lit up an L&M. "Do you have a laptop?" she asked? "I'll show you some pictures." Now this was 21st-Century geek girl ho marketing. She showed me some legit modeling she had done and then a tasteful nude spread. The idea of this pretty Jewish California girl plying her trade in Chiang Mai was jaw-droppingly fascinating to me. She came from a place where men gladly pay $500 for an hour of her time to a land where guys pay $30 to mate with a girl who wouldn't give them a dirty look in the USA.
"My feet are cold," she said. "Do you have an extra pair of socks?" I went inside, taking my laptop with me so the Mensa nymphomaniac couldn't surreptitiously install a Trojan on it while I wasn't looking, and returned with a pair of black Jhane Barnes dress socks. I expected never to see them again. Maybe she collected men's socks like some guys collect women's panties. Maybe she nailed them up on her wall.
Kitty put on the socks. "Thank you," she said. "That's very gentlemanly of you." She sipped Semillon Blanc. I lit her second-to-last L&M for her and gazed out over the pool, the reflecting lights, and the Ping river. I refilled her glass. She opened her purse and took out a roll-on of citronella mosquito repellent, applying it to herself and then offering it to me. "No thanks," I said, "I'm taken care of." She nodded and was quiet awhile. I lit her last L&M for her.
"I really like anal sex," she said. "Do you?"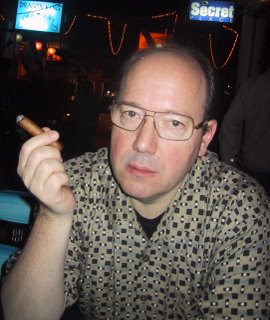 Somehow I managed to get her down to the porte-cochere. I planned to call a taxi for her but she said she wanted a tuk-tuk instead, essentially a motorized tricycle with a back seat and canopy. The doorman was aghast but she insisted. "That way I can smoke in the back," she said. She climbed into the tuk-tuk, still wearing my Jhane Barnes black socks, and looked back hopefully at me as the driver pulled out. I waved at her to stop but the driver pulled away. She kept looking and I waved again. She told the driver to come back. I sprinted down the driveway.
"How much is the fare?" I asked. 300 baht. I pulled it out and gave it to her. It was worth $8.
"That's very gentlemanly of you," said Kitty as the tuk-tuk pulled away, "very gentlemanly." Her wide eyes looked back at me till she was out of sight.
Labels: -favorites-, cigars, girls, Kitty, Thailand