Aussie busto
I got off to an exciting start in the Aussie Millions, making the nuts twice early and chipping up to 53,000 from the starting 20,000. Carlos Mortensen was at my table but never got cards. After my early success I bluffed into a set for half my stack, made a series of unsuccessful steals, and eventually put my last chips in with top two pair against a flush on the turn, eliminated in the wee hours of day one.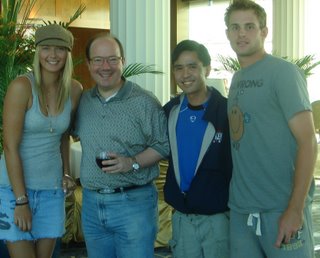 Other than that, Mrs. Lincoln,
Melbourne
was great. Full Tilt took us on a river cruise, wined and dined us, and gave us a whole bag full of custom Aussie logo swag. This takes over from
Aruba
as my favorite event. And next year the whole casino will be non smoking!
Maria Sharapova has been hanging around, looking for excuses to run into me, riding up in the elevator, etc. I hope it doesn't distract her from winning the Australian Open. Well, dealing with many admirers is one of the responsibilities that comes with success. Good luck to Maria and our new friend Andy Roddick. Doug Lee and I have already gone busto in our tournament.
Tomorrow I leave for Thailand to visit my brother.
Labels: Andy Roddick, Australia, Doug Lee, Maria Sharapova, poker