Flower show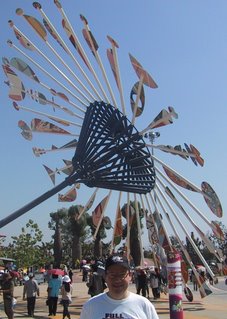 Breakfast at the Chedi, for suite guests, was in the club lounge. There were never more than two other tables of guests and often we were the only ones there. They had a buffet with a gourmet selection of cold items and then a menu for ordering hot ones. They brought a carafe of French press coffee and two helpings of Eggs Benedict, which we consumed leisurely as the morning sun warmed the river air.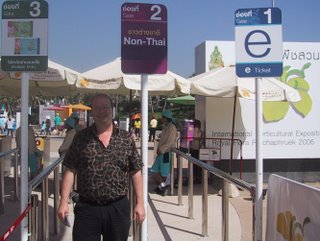 After breakfast we decided to visit the Royal Flower Show at the new fairgrounds. This was the reason for the unusual tourist surge in Chiang Mai. Mike drove the turbo pickup to the show, which had a huge parking lot but wasn't letting anyone but public transportation park in it. We had to find a private lot and take a shuttle.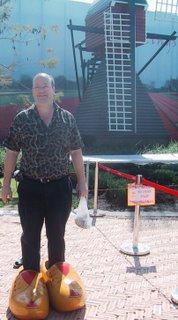 Once at the show, we strolled around the grounds, hitting the Royal Pavilion first.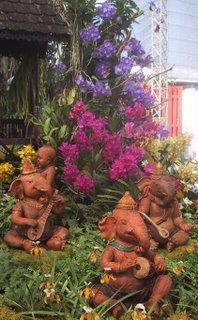 Mike was interested in learning about orchids to decorate his renovated condo, but there wasn't much learning to be done. Many countries had set up showcase exhibits but there really was nothing terribly exciting except a big pair of wooden shoes the Dutch had set up as a photo op. We complied. The most interesting thing to me was the number of Thais carrying parasols. Apparently they prefer them to sunblock.
There were plenty of orchids everywhere and Mike snapped some pictures to take home as decorating ideas.
Labels: Mike Brodie, Thailand