Heads up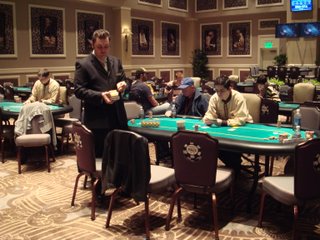 Having been inexplicably passed over yet again for the NBC Heads-Up Poker Championship I decided to play the $200+30 rebuy satellite Saturday at
Caesars
Palace
for one seat in the exclusive field. Only 71 people entered so I had a decent chance of getting into what's becoming one of the premier events in poker.
My buddy Chad Layne was at my table but was busted early by the charming Alex Vuong, who trapped him with top pair and a better kicker.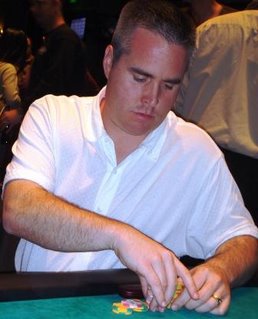 Terry Fleischer showed up at the table with 25,000 chips but his wild style didn't work out so well at this table as people kept showing down big hands against him.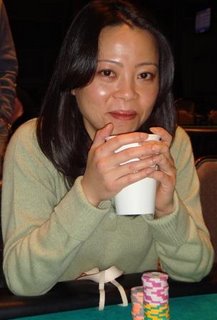 He doubled me up playing four-deuce suited but I lost most of my chips when my Presto couldn't hold up against eight-six flopping two pair.
I put my last few chips in with a raggy queen and got called by the same guy who busted me in one of the season two UPCs by calling with Ace-Ten. Once again, he had Ace-Ten and once again I lost the race and busted 25
th
.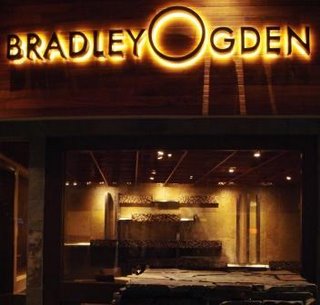 It wasn't so bad to bust at 5:59 p.m. since I had a 6 p.m. dinner invite from Benjie and Mark at Bradley Ogden, conveniently located steps from the poker room at Caesars Palace. I had a steak tartare and Chilean sea bass, both excellent as is pretty much anything I've ever had at Ogden. Benjie always lets me pick the wine and I saw no reason to get anything but the 2002 Casa Dalla Valle Cabernet.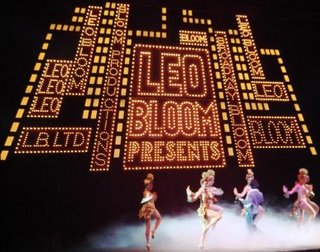 After dinner we went to The Producers, the new abridged version that had just opened at Paris. We walked across the street and enjoyed David Hasselhoff's performance as the flaming director-actor. I was not a big fan of the show when I saw it on Broadway, not loving Mel Brooks' score, and it's fair to say that it in my eyes it benefited by being shorter. The acting and production were terrific and I'm sure it will be popular with tourists.
Labels: Alex Vuong, Benjie, Chad Layne, dining, poker, theater, Vegas, wine